RAYON 034 - Part Wild Horses Mane On Both Sides 'Sixth Samovar', CD
email pascal.nichols@yahoo.co.uk to order.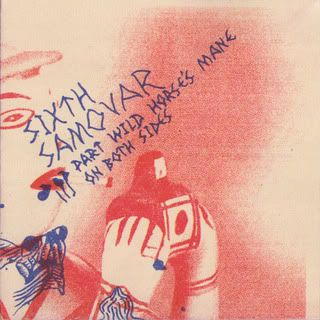 This duo of drums and flute played starkly in a cinema in Bristol. Unaided by electricity due to a dramatic power-cut that swept across Bristol on 12th June 2010. Determined to play in a darkened porch hole, Nichols and Jones performed a deluge rite with carbonised instinct and with particular attention paid to the poetry of footsteps, words and interruptions. This recording engraves an experience of unadorned heed and progresses. Pro-pressed CD in riso-printed fold-out paper sleeve.
£6 UK/EU £8 World
Part Wild Horses Mane On Both Sides 'Sixth Samovar' sample a
by
Rayon Recs
Part Wild Horses Mane On Both Sides 'Sixth Samovar' sample b
by
Rayon Recs